Twitter can help grow your star­tup
But you have to use it right.
Boost your Twitter engagement with a daily routine that gives your tweets priority in the feed.
Get the course now for $79
Black Friday: 40% off until Sunday.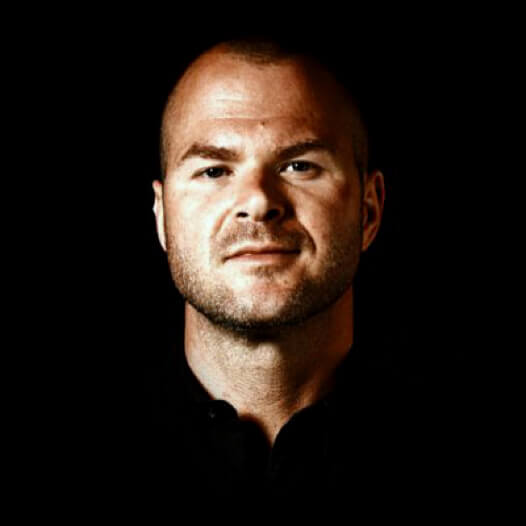 "Dagobert does an awe­some job.
I see his con­tent daily."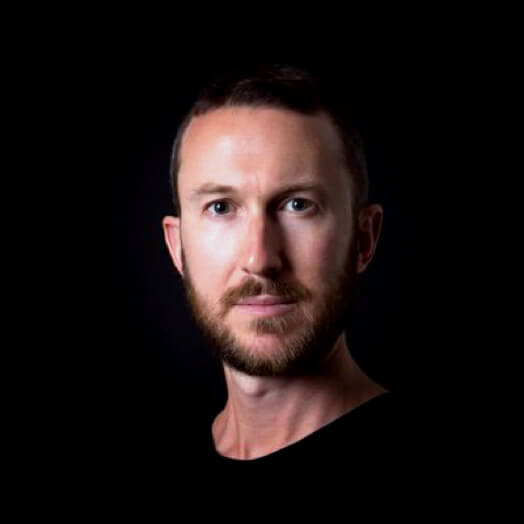 "Dagobert is one of the only ac­counts who does amaz­ingly well without using shady growth hacks."
Is your twitter growth
un­predictable?
Most of your tweets get little attention.
Success seems random and unrelated to the effort you put in.
You see 💩 tweets go viral, but it never happens to you.
You're trying but not
get­ting results
You tweet 5x a day.
You reply to tweets from big accounts.
You spend hours writing threads.
You jump on the latest trends like memes or visuals.
You use hashtags.
You even tried shady tactics to gain lots of followers quickly 🤦‍♂️
Your clue­less app­roach
is keep­ing you small
You could be getting 100 followers per day. But instead you worry about the 2 who unfollowed you last week.
You miss out on opportunities for brand awareness, sales and partnerships.
You have no authority in your niche. People don't take you seriously.
Because: without knowing it, you're break­ing the rules of the algo­rithm.

And it's hiding your tweets from the feed!
90% of content shown on twitter isn't picked by you, but by the algorithm.
What people see in their feed depends on 100+ hidden rules.
If you're active but not growing, it's because you're breaking at least 1 rule of the algorithm.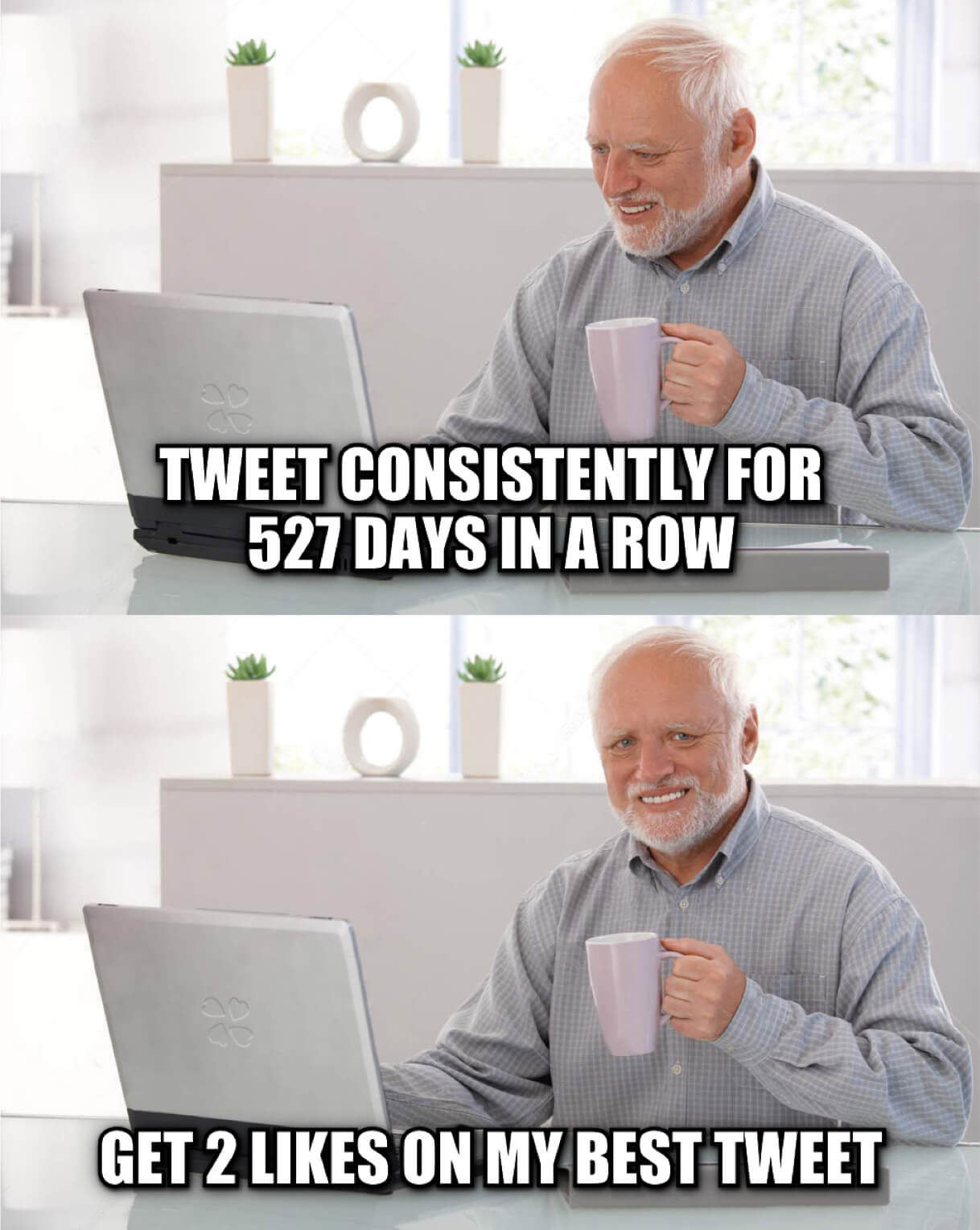 We'll fix your growth
by doing two things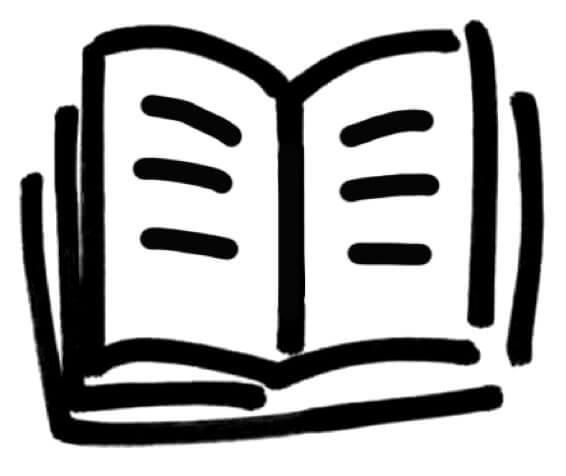 Learn the rules of the algorithm and how it prioritizes tweets.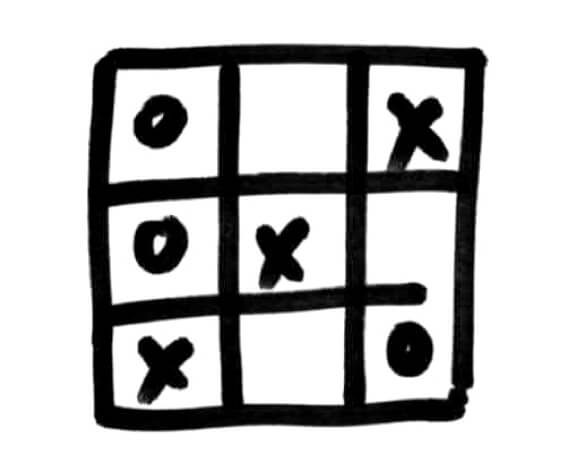 Follow a strategic approach to maximize the engagement you receive.
I went from invi­sible to top of the feed…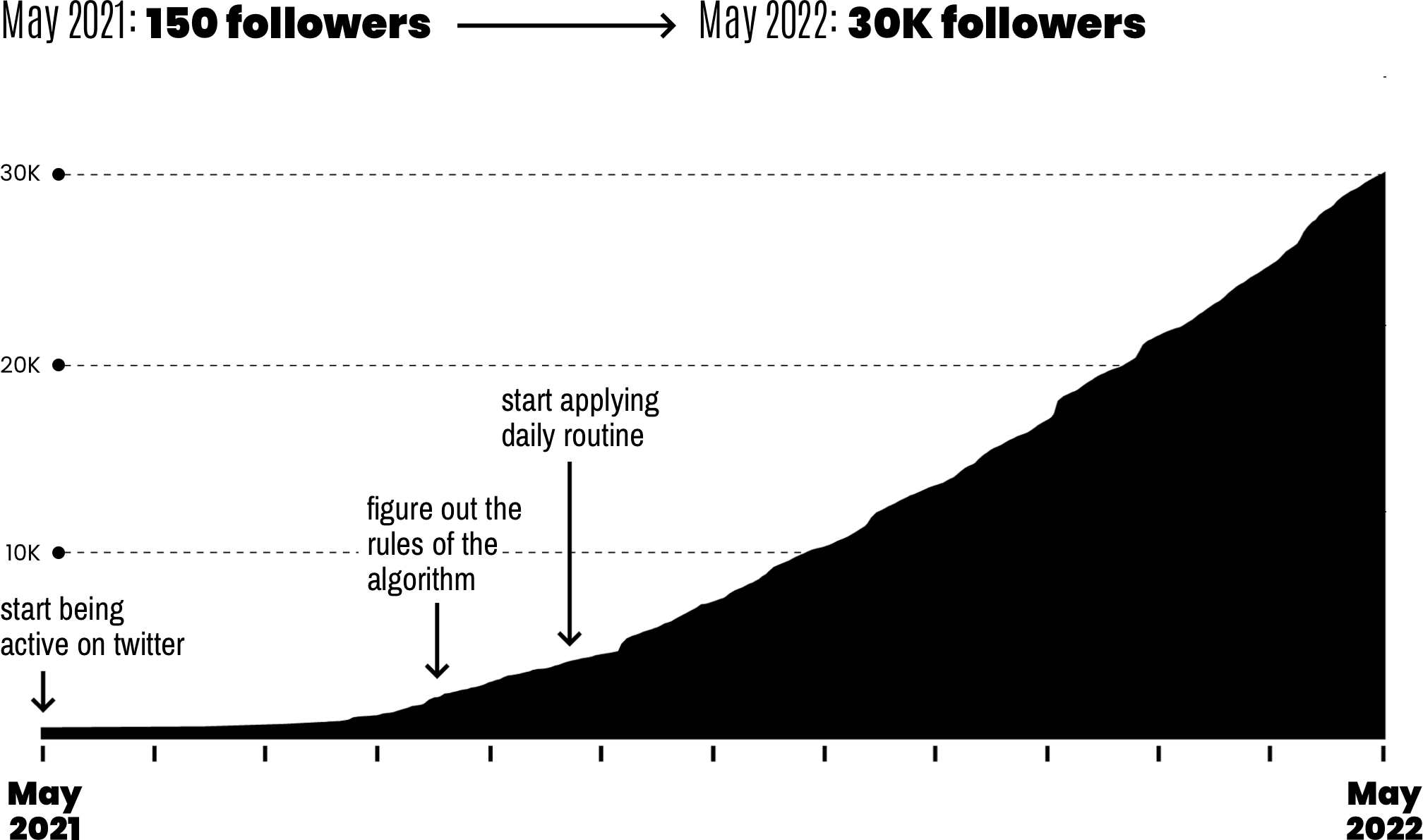 …and got way more opportu­nities
My startup went from $300 to $3,000 average monthly revenue, 90% from twitter traffic.
I got invited to 10+ podcasts.
People now spontaneously recommend my products weekly.
Other startup founders offered me partnerships that now bring sales every month.
Your tweets aren't as bad as you think.
You're just break­ing the rules of the algo­rithm without real­izing it.
Here's how we'll
boost your growth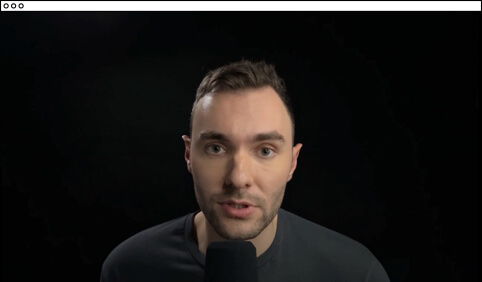 1 — Discover the rules of the algorithm
Learn how the algorithm prioritizes tweets.
Stop breaking the rules.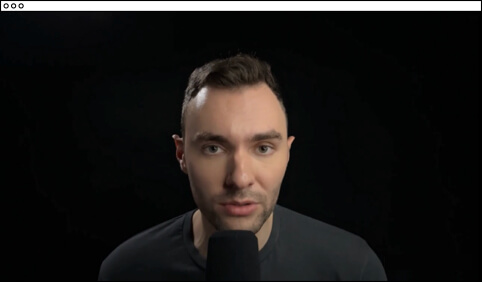 2 — Learn the formula to boost engagement
Increase organic engagement on your tweets 2x-10x.
Stop tweeting into the void.
Make your tweets trending.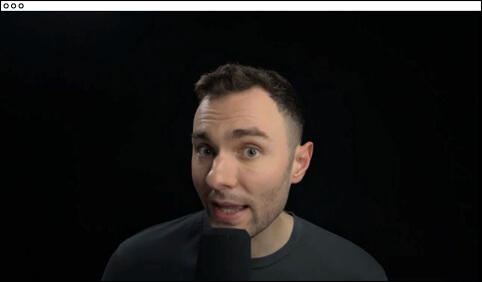 3 — Follow a daily routine to grow consistently
Focus on the right things so twitter doesn't become a full-time job.
Get actionable routines for 30min, 1h, 2h per day.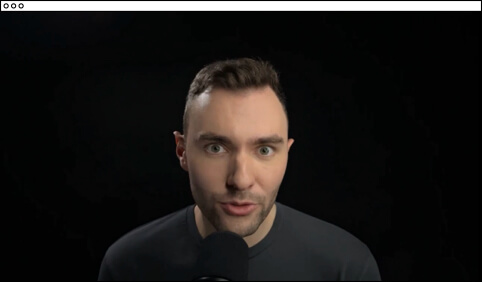 4 — Adapt to your number of followers
Get unstuck at 0-100 followers.
Accelerate growth as you reach 100, 1k and 10k followers.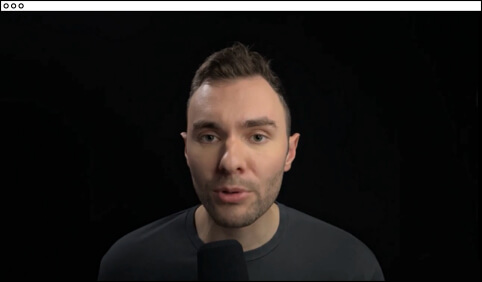 5 — Learn to write original tweets quickly
Bypass the fear of the blank page.
Prevalidate tweets so you can guarantee their success.
Reduce writing time by 80%.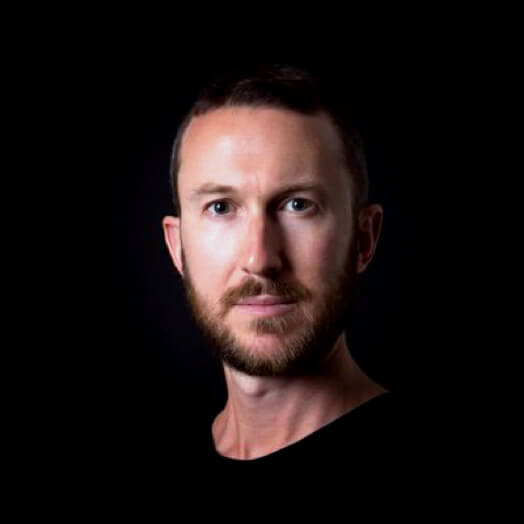 "Man, just go work for twitter! You know more than their actual engineers 😂"
In 2 hours, you'll learn the rules of the algo­rithm and how to leve­rage it
Up to date with latest changes in the algorithm Summer 2022.
$59 $35
Course essentials
15 videos - 2 hours
— Course fundamentals.
— Daily routine PDF.
BEST VALUE
$79 $47
Advanced growth bundle
23 videos - 3h30
— Course fundamentals.
— Strategy per number of followers.
— Writing framework.
— Daily routine per number of followers PDF.
— Bonus: 11-point checklist to make sure a tweet gets max impressions.
— Bonus: 8 advanced strategies [Nov 30th delivery].
— A 1h bonus course on creating memes to grow your account [Nov 30th delivery].
Buy the course here
Black Friday: 40% off until Sunday.
Full curri­culum
Introduction
Revealing the truth about the Twitter algorithm
— Dissecting the feed to see what gets priority.
— The plan to grow 10x faster.
The 4 keys to grow on Twitter
— The 4-step growth formula.
— Step 1 – [REVEALED UPON PURCHASE]
— Step 2 – [REVEALED UPON PURCHASE]
— Step 3 – [REVEALED UPON PURCHASE]
— Step 4 – [REVEALED UPON PURCHASE]
Your daily routine to get maximum engagement
— Groundwork - find who to follow.
— Groundwork - make your profile more followable.
— Building your routine.
— Routine per time available (30min / 1h / 2h). [PDF]
— Monthly maintenance.
Strategy depending on number of followers
(in advanced bundle)
— Strategy at 0 followers.
— Strategy at 100+ followers.
— Strategy at 1,000+ followers.
— Strategy at 10,000+ followers.
— Specific routines per followers + time available. [PDF]
Writing framework
(in advanced bundle)
— My process to find original tweet ideas effortlessly.
— The 5 types of tweets and how to nail them.
— What you should and shouldn't share.
— How to write great replies.
Conclusion
Bonus — 8 advanced strategies
(in advanced bundle - Nov 30th delivery)
— How I got 5k visits to my site per month from Twitter, even with less than 1k followers.
— How to get your reach back after a break.
— How to use "platitude" tweets strategically to boost your reach.
— How to know if a failed tweet deserves a second chance.
— When you should use a link to your product and when you shouldn't.
— What to focus on to become a must-follow account.
— When to promote your product for maximum reach.
— The ideal time to reply to notifications.
Bonus — Becoming a meme lord
(in advanced bundle - Nov 30th delivery)
— How I use memes to accelerate my growth.
— The hidden strategy behind memes.
— My entire process to create viral memes.
But this course isn't
for every­one
This course is only a good fit if you:
Can dedicate 30min per day to twitter, 5x a week.
Want to grow based on merit, not shady tactics.
Care about bringing value to your audience.
Want to build genuine connections with people in your niche.
Here's the catch
This course isn't a magic pill. Just like watching a fitness video won't get you in shape, you won't grow a genuine Twitter account without consistent effort.

But by knowing what to focus on, you'll finally have control over your growth. You'll stop depending on luck, and instead have a clear path to reach your goals.

If you put in the work, you'll be rewarded.

Get the course now for $79
Black Friday: 40% off until Sunday.
Frequently asked questions
Most twitter courses either:
— Promise you to grow fast without much effort. But it doesn't get results beyond cheer number of followers (no business opportunities, no sales of your product, no authority in your field).
— Teach you useful writing and scheduling tips but forget the elephant in the room: the algorithm.

This course is different. It's about how you can grow a following of people who genuinely care about you and what you're doing, but with a strategic approach that maximizes your growth.
This course works best if you have at least 30 minutes to dedicate to twitter, 5x a week. However I've seen people get results with only 2x 30min per week. If you're not sure, you can try it for a couple weeks, then if it doesn't work send me an email and I'll give you a refund.
I tried my best to make this course work for as many people as possible. But if it doesn't work for you, I'll refund you entirely. Just ask me at support@dagorenouf.com (up to 30-days after purchase).
The strategies in this course work wether you have 100, 1,000 or 10,000+ followers.
That said, if you have less than 100 followers or a lot of inactive ones, you need a specific plan to get unstuck. That's why I included a chapter on what to do at 0 and 100 followers.
Go to Twitter right now and look at the kind of 💩 that gets viral everyday. You really think it's that good?
Back in May 2021 I thought I sucked at writing tweets too. Because I was putting effort and barely getting 2 or 3 likes. But the problem wasn't my tweets, it's that nobody was seeing them. I didn't know this and it killed my confidence.
As I started understanding the algorithm, I got more visibility and engagement on my tweets, and realized they weren't so bad. And over time, I also learned how to write even better ones, which I tell you about in the course.
You don't need to be a rockstar to succeed on Twitter. I didn't have any accomplishments to share when I started. But by understanding the algorithm, I made my content visible and was able to grow.
Lots of big accounts aren't natural authorities in their niche, but they understand the rules of Twitter. And by being consistent, it's enough to quickly grow their following.


Become an affiliate

©Logology, Dagobert Renouf, 2022